Patients using the Humber Bridge are still paying toll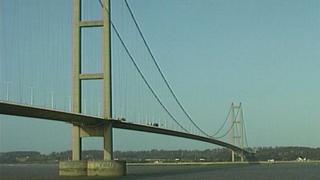 Hospital patients who need to travel across the Humber Bridge for treatment are still waiting to cross for free, despite tolls being halved last April.
A bill going through Parliament would give control of the bridge to a new board that could then allow dispensations from the toll.
It has been delayed after the Conservative MP for Christchurch, in Dorset, objected to its progress.
Campaigners have been lobbying for hospital patients to be toll-exempt.
Jenny Walton has been campaigning for a decade.
She said: "It's a long time, some patients have died.
"But there are new patients coming along all the time, thousands of them. I feel for them."
Christopher Chope, MP for Christchurch, shouted "Object" in the House of Commons to stop the passage of the private bill that would allow toll dispensations.
Charges slashed
Andrew Percy, Conservative MP for Brigg and Goole, who supports the bill said Mr Chope believed "every piece of legislation should be debated properly".
Mr Percy said: "I practically sat on him to try and stop him and shut him up.
"We did wait 30 years to get the toll cut in half, we'll just have to wait a bit longer."
Toll charges were reduced from £3 to £1.50 for a single car journey in April.
North East Lincolnshire Council said patients on the south bank would get toll-free travel soon after the charges were slashed.
Time will now have to be found in the government timetable to allow the Humber Bridge Bill to be discussed and that could lead to a delay of months.
The bill confers some new powers and duties on the board and modifies others.