Comet's last 20 workers in Hull to be made redundant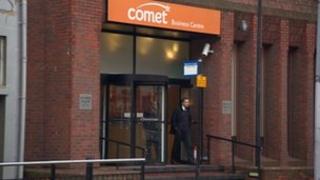 The administrators of electrical chain Comet will close its Hull Business Centre on Thursday, with the company's final 20 employees being made redundant.
The Hull-based chain appointed Deloitte as administrators in November.
All 236 stores closed before Christmas with the loss of around 7,000 jobs, including up to 200 at the Hull centre.
Deloitte said it retained a core staff in the city to "assist in the winding down of operations".
A spokesperson said: "As those activities come to a close it has therefore become necessary to close (the Hull Business Centre) from 31 January and unfortunately, the remaining 20 employees will be made redundant."
The company was founded in Hull in 1933, and originally called Comet Battery Stores Limited.
Comet, founded by George Hollingbery, was originally a two-man business charging batteries and accumulators for customer wireless sets.
The first Comet superstore opened in Hull in 1968 and the company was listed on the stock market two years later.
The firm changed hands a number of times over the years, until it was bought by private equity company OpCapita last year for just £2.
Deloitte failed to find a new buyer for Comet, and said the firm's losses in the year to April 2012 totalled £95m, while its revenues slumped by £200m.