Man rescued from mud in River Hull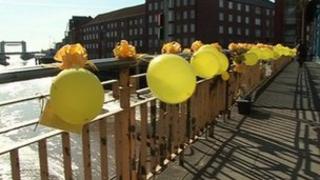 A man has been rescued from the River Hull after he got stuck in mud on the river bank.
Emergency services attended the scene at Drypool Bridge on Saturday evening.
The incident took place just before friends of Hull man Stuart Gilson, 21, of Annandale Road, gathered at the bridge to pay tribute to him.
He went missing on an night out a year ago and his body was discovered on the River Humber's north bank between Brough Haven and Gilberdyke last March.
Humber Coastguard said an RAF helicopter was called to assist in the rescue operation. The man was not injured but was taken to hospital.
The family of Mr Gilson launched a campaign last year to have protective barriers installed between Drypool Bridge and the water's edge.
CCTV footage showed Mr Gilson was last seen at Drypool Bridge on 28 January after a night out.
Hundreds of people took part in unofficial searches for Mr Gilson, which were co-ordinated on Facebook, and more than 300 people attended his funeral at Hull's Chanterlands Avenue Cemetery last March.
A coroner ruled his death was an accident.