BAE Brough: 120 workers face compulsory redundancy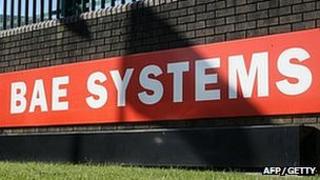 About 120 BAE workers in East Yorkshire could face compulsory redundancy in the new year, the company has confirmed.
BAE Systems announced plans in September last year to cut about 845 posts at its Brough aircraft plant in an effort to maintain competitiveness.
While it had worked with unions at Brough to reduce the number of job losses compulsory redundancies may now be necessary, the company said.
Unite said BAE was "hell-bent on forcing people out of the door".
'Explore all opportunities'
The number of jobs under threat at Brough, near Hull, was reduced in February after BAE said 54 technical and engineering jobs had been saved.
In May, a further 218 jobs were safeguarded at the site after BAE announced a deal with Saudi Arabia to supply Hawk trainer jets.
Employees had also been transferred to other parts of BAE or taken voluntary redundancy, the firm said.
While the company continued to "explore all opportunities" to further cut redundancies at Brough, it was unlikely that job losses could be avoided, said BAE.
'Real mistrust'
The Unite union said it expected the first round of letters would be sent out to employees on 7 January.
The compulsory redundancies would be staggered between January and May, the union said.
Ray Cartwright, Unite works convener at Brough, said any further job losses must be through natural wastage.
"That would give us a lot more time to mitigate these jobs and gives people an opportunity to find jobs", he said.
BAE employees at Brough had been left with "a real mistrust" of the company as a result of the announcement, said Mr Cartwright.