North East Lincolnshire landmark to be auctioned off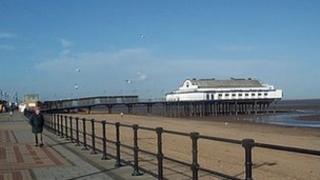 Cleethorpes Pier is to be put up for sale with a guide price of £400,000, an auctioneer has said.
Auctioneer Edward Swindell said the current owner had decided to sell it in order to invest in other businesses.
The decision comes after the leaseholders who operated its restaurant and nightclub closed the venues down earlier this month.
The 335ft (102m) long pier has had numerous owners over the years since it was opened in 1873.
It was built by a railway company in an attempt to attract tourists to the Lincolnshire resort.
'Very disappointing'
After World War I, the pier changed hands a number of times and saw many redevelopment projects to try and revive its fortunes.
It has a 600-seat pavilion theatre, cafe and bar.
Its most recent incarnation was as a nightclub.
Tim Mickleburgh, honorary vice president of the National Piers Society, said he was optimistic that somebody would buy it.
He said: "It's very disappointing because the the owners seem to have put a lot of money in to it and tried different various attractions over the years."
The auction is scheduled to be held in January 2013.