Bridlington South Beach Blue Flag loss blamed on rain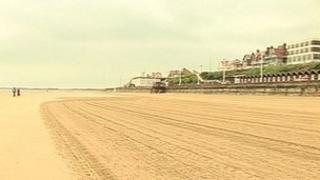 An East Yorkshire beach has lost its Blue Flag status after heavy rain in the summer caused sewers to overflow into the sea, a council has said.
Bridlington's popular South Beach was only awarded its Blue Flag for bathing water quality in May.
East Riding of Yorkshire Council blamed "extreme rainfall" for the reduction in the quality of water at South Beach.
However, the beach's water continued to meet mandatory European standards, the council said.
'Prestigious award'
Testing at South Beach over three months in the summer revealed the standards required to maintain a Blue Flag were not met on three out of 14 occasions.
Darren Stevens, East Riding of Yorkshire Council's head of culture and information, said the council was "disappointed" at the loss of South Beach's Blue Flag.
"We recognise how important and prestigious this award is for the town and the East Riding, however we would urge people not to be put off by this setback," he said.
Blue Flags continued to fly at Bridlington's North Beach as well as at nearby Withernsea and Hornsea, Mr Stevens added.
Dominic Shepherd, the Environment Agency's water quality planning manager, said there had been "no specific pollution incidents" at the resort during the summer.
But "unprecedented levels" of rain in May and June had led to poorer bathing water quality at many of the region's beaches.
Water quality at Bridlington had improved since rainfall had reduced in July and August, said Mr Shepherd.
Yorkshire Water said a £40m programme of improvement works due to start in Bridlington in October should help the town's South Beach to win back its Blue Flag.