Greencore workers petition bosses in Dublin over pay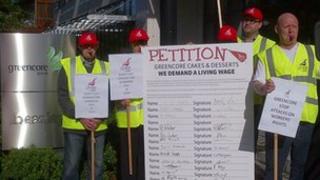 Workers at a food company in Hull have travelled to its headquarters in Dublin to hand in a petition opposing changes to their pay and conditions.
The Unite union says Greencore is abolishing premium rate overtime and bank holiday working payments and threatening staff with redundancy.
The company, which supplies convenience foods to supermarkets, said Unite's claims were "baseless".
The petition was handed to Greencore's company secretary Conor O'Leary.
The company dismissed the action as a "publicity stunt" and said it had proposed the changes because the Hull factory had been "heavily loss-making for the past two years".
Five employees from the company's cakes and desserts factory in Hull, along with two Unite representatives, travelled to the Dublin office to deliver the petition, which was signed by "hundreds of workers", Unite said.
'Make a stand'
The workers also handed out campaign leaflets outside the Department of Agriculture, Food and the Marine in Dublin.
Employee David Sensier said: "I've been there 14 years. It's disgusting how they're treating us. That's why we're here [in Dublin]. We need to make a stand."
Unite says the company has threatened to make 236 people redundant and replace them with agency workers if staff do not accept "the new, worse terms and conditions before the end of the legal consultation period".
In July, the union filed a complaint with the Ethical Trading Initiative against the firm, which is a signatory.
A spokesman for Greencore said the union made "baseless claims and is now engaging in a publicity stunt in Ireland".
The company said management at its Hull factory had "proposed improvements in basic pay and no redundancies in return for the continued suspension of premium pay for overtime and bank holidays".
In a statement, Greencore said: "The majority of the workforce has agreed to these proposals and have signed contracts to that effect. Unite, on behalf of their members, has not.
"Instead, the union has agitated for better terms and refused to formally ballot its members on any of Greencore's proposals."