Taxi wheelchair rules in North East Lincolnshire changed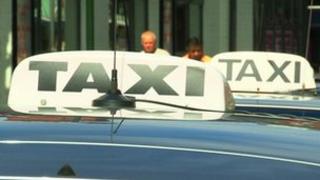 Taxi drivers in North East Lincolnshire will no longer be required to buy wheelchair friendly vehicles.
The council voted to change its regulations and allow a "mixed fleet" of cabs.
It means that drivers with existing saloon cars can replace them with similar models without wheelchair access.
A local disability rights campaigner said all taxis should have wheelchair access.
The local authority said it had made the change after consulting with drivers and taxi users.
Currently there are 103 wheelchair-accessible hackney carriages in North East Lincolnshire, which make up 43% of the total.
'Best way forward'
The Labour leader of North East Lincolnshire Council, Chris Shaw, said having 43% of taxis with wheelchair access was "all the market can bear".
Mr Shaw said: "We think that by having a mixed fleet policy, that's possibly the best way forward."
Mark Bagley, of the Choices and Rights Organisation which helps disabled people in the region, said wheelchair-accessible taxis could be used by anybody.
Taxi driver Derek Grant said many owners had already bought wheelchair-adapted cabs due to the existing guidelines.
"Some of the guys have spent a lot of money on buying these wheelchair-converted vehicles, which we've had no choice in," he said.
The council also decided not to force the area's taxis to be painted the same colour.