Humberside Airport sold by Manchester Airports Group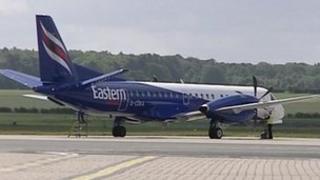 The owner of Humberside Airport has sold its stake in the business.
Manchester Airports Group (MAG) said it had sold its 82.7% share to concentrate on its larger airports - Manchester, East Midlands and Bournemouth.
Eastern Group, which operates Eastern Airways airline, has bought MAG's share for an undisclosed figure.
The Eastern Group said flights would continue as normal and all staff would remain in post but it would carry out a review of the business in the future.
North Lincolnshire Council will continue to own the remaining 17.3% share of the airport.
'Positive move'
MAG Chief Executive Charlie Cornish said: "[We] believed for some time that the best long-term operational model for Humberside Airport was with a new owner that could focus on taking the business forward into the next phase of its development.
"The Eastern Group specialises in aviation related activities and we are delighted that our former colleagues at the airport will now have a new owner who can concentrate on developing the business."
Councillor Liz Redfern, leader of North Lincolnshire Council, said: "It's fantastic news... We'll be working very closely with the Eastern Group.
"We hope to achieve more jobs, more growth, attract more business so I think it's a great opportunity, not just for North Lincolnshire but for the Humber region."
Paul Litten, head of business development at Humberside Airport, said the sale was a "positive move" for the airport to focus on its passenger flights and heliport operation.
Humberside Airport houses the "second largest heliport in the UK" flying oil rig workers to the North Sea, Mr Litten added.