Hull's Orchard Park to get £15m of new homes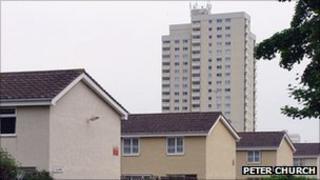 A £15m scheme to build new houses and refurbish two blocks of high-rise flats on a Hull estate has been approved by the city council.
Under the plans, 115 new houses will be built on the Orchard Park estate and 100 flats from the Gorthorpe and Kinthorpe blocks will be refurbished.
The remaining five tower blocks will be demolished in 2015.
Liberal Democrat councillors have opposed the scheme saying that it is "not value for money".
Hull City Council's cabinet voted on 25 June to develop the 215 homes, but a final decision was made by council leader Steve Brady on Wednesday after detailed costs of the scheme had been put forward.
'Win-win'
Liberal Democrat councillor Mike Ross said: "It's not the right decision.
"It's not value for money because it will use up vast amounts of council's finances on redeveloping the tower blocks, when actually it would be cheaper to knock down them down and start again."
Councillor John Black said refurbishing the tower blocks gave a "sense of commitment" to regenerating the estate.
"I think this is a win-win for everybody," he said.
"For people who do want to remain on Orchard Park, there is a greater chance they will now with the refurbishment of the two blocks: Gorthorpe and Kinthorpe. So people will have an opportunity to move into those.
"Also, they would get first choices with the new-build programme which is going to get under way at a pace."
Mr Ross is calling for the decision to be reconsidered and referred to the council's scrutiny management committee.