Goole docks waste removal deadline 'could be extended'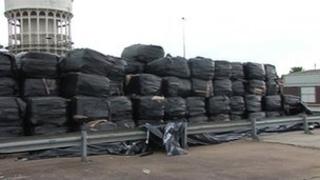 A deadline for removing tonnes of waste dumped at an East Yorkshire port could be extended.
Bales of refuse were left at Goole docks by Leeds Paper Recycling (LPR) without proper authorisation, the Environment Agency (EA) said.
The EA said the deadline, which was set for 11 July, could be extended if LPR submitted a suitable plan detailing how it would remove the waste.
LPR said it was working "round the clock" to remove the bales.
Paul Salter, from the EA, said 300 of the 3,000 bales had been taken away so far and that the agency was working with LPR to remove the refuse from the site "as fast as possible".
He said: "We are waiting for the company to submit a new plan detailing the schedule of waste removal. If they do, and we are satisfied with this, we will give an extension to the deadline for removal of the waste."
The agency said it would consider taking legal action if LPR's plans were not suitable and the company did not co-operate.
A decision was expected in a few days, the EA said.
Mr Salter said the recycling company would re-wrap the remaining bales by Thursday.
In a statement, LPR said there was "currently a very limited number of sites around the UK" to dispose of the waste.
"We are working closely with the Environment Agency and our contractor on site to gain an extension to today's deadline."
Andrew Percy, MP for Goole, said the waste posed "an environmental risk".
Some of the bales, which contain non-recyclable plastics, paper, fibre and textiles, were set alight on 9 June, but no major damage was caused, said Mr Percy.