Hull's Cat Zero yacht scheme to expand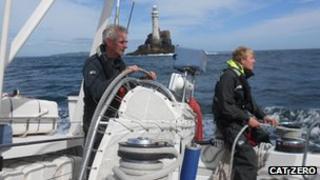 A controversial training scheme for young people in Hull involving an NHS-funded £500,000 yacht is expanding into North East Lincolnshire.
Hull charity Cat Zero uses a 72ft (22m) yacht to train unemployed people aged 16 to 24. It will be used in Grimsby and Immingham from next week.
The yacht, which was funded by NHS Hull in 2008, was criticised by Prime Minister David Cameron in 2009.
The project has changed the lives of almost 300 young people, Cat Zero said.
Danny Watson, skipper of the Cat Zero 'One Hull' yacht, said: "Here in Hull, the positive outcomes with regards to young people getting into work, getting into training, getting level two qualifications has been so successful that it's great that we're now expanding to the south bank."
'Tough environment'
He said the yacht was at the heart of the programme but the charity also ran a 10-week shore-based course.
"It's a very intense tough environment. We did a sail two weeks ago and it poured down with rain all day and the youngsters were still beaming, smiling having crewed a 72ft sailing yacht."
The charity has secured a further £100,000 of government money to expand the project.
The scheme will be rolled out from Tuesday in Grimsby and will later move to Immingham in September, the charity said.
When the project launched four years ago a city councillor criticised NHS Hull for funding the yacht.
Steve Brady, from Hull City Council, said it was a "disgraceful" misuse of public money.
In 2009, David Cameron described the purchase of the yacht as "extravagant".
NHS Hull defended its decision and said it was an investment in the future of local young people.
Christopher Long, chief executive of NHS Hull, said the project was an "exciting opportunity for Hull to do something different" and to make a difference to the "health, skills and employability of our young people."