Alcohol-related liver disease 'an epidemic' in Hull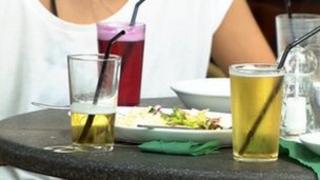 Alcohol-related liver disease is reaching "epidemic proportions" in Hull, doctors have claimed.
Up to 40,000 people are drinking to hazardous levels, with up to 8,000 alcohol dependent, their figures show.
They are also treating increasing numbers of people aged between 20 and 30 with serious drink problems.
Dr Jacqueline Smithson, consultant at Hull Royal Infirmary, said liver disease had "escalated dramatically" over the last 10 years.
"I think if we don't do anything we are sitting on a health time bomb," she said.
'No stomach lining'
Dr Smithson said that over the past five years the age of her patients had "got younger and younger" and she was also seeing "more and more women".
"Since the beginning of this year we've had an increasing number of young people die of alcohol-related liver disease," she said.
"When I started 17 years ago, I was seeing 50 and 60 year-old people sadly losing their fight with alcohol, but now I'm seeing young people in their 20s and 30s dying.
"I've also seen a swap from men to more women dying of liver disease as well."
It is thought Hull is one of the cheapest places in the country to buy alcohol and doctors believe this is fuelling the problem.
Lee Kaman, co-owner of the Vault pub in Hull, said: "People start to come out at half past nine or 10 o'clock and they're already tanked up from what they've been drinking at home.
"They'll come to the bar to buy a round of cokes and then disappear to the toilet to top them up with these cheap vodkas and things like that."
Chelsea Moore-Parker started drinking from the age of 12. She said her heavy-drinking habit had almost killed her five years later.
"I had no stomach lining and [doctors] said if I'd carried on I would've ended up dying because of the amount of spirits I'd been drinking," she said.
Ms Moore-Parker said a combination of counselling and rehabilitation has helped her to overcome her alcohol problems. She is now calling for other young people to be informed about the dangers of under-age drinking.