Karl Turner MP: Government 'out-of-touch' on caravan VAT plan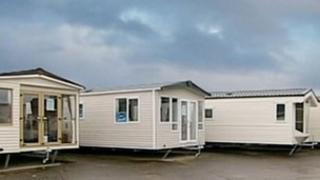 The government has shown it is "out of touch" by proposing to introduce VAT at 20% on static caravans, an East Yorkshire MP has said.
Karl Turner, Labour MP for Hull East, speaking on the BBC's Sunday Politics said it was the "wrong tax at the wrong time".
And, Martin Vickers, Conservative MP for Cleethorpes, asked for a government "rethink" on the same programme.
The Treasury said the VAT addition was fair but it would listen to "concerns".
Mr Turner said the tax, due to be introduced on 1 October, was "unfair". Currently static caravans are VAT-free.
He cited the example of somebody who had saved up to buy a static caravan could now have to pay an extra 20% on the price.
However, someone who bought a "country cottage" (worth between £125,000 and £250,000) needed to pay "only" 1% stamp duty.
Mr Turner said the government needed to drop the VAT addition and "put it to bed".
He added the proposed measure wasn't going to help manufacturing and employment in the area.
According to the National Caravan Council, about 95% of all British caravans are made in East Yorkshire.
Mr Vickers said he hoped the government will "take note" of the representations made in the consultation, which ended last Friday.
"It is potentially very damaging for seaside resorts like Cleethorpes," he said.
Mr Vickers added it was "vitally important" that the government "think again".
Treasury Minister, David Gauke MP, said: "It is right that we try and deal with the static caravans fairly and consistently."
He added that the government wanted to listen to concerns about the impact of the measure.