MPs in last-minute plea on planned caravan tax rise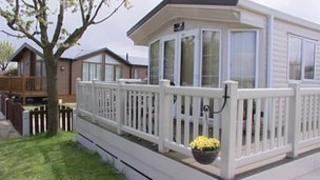 More than 70 MPs have signed a motion calling on the government to cancel the planned introduction of VAT on static caravans.
Chancellor George Osborne announced the introduction of the 20% tax in the Budget in March.
The government is holding a consultation on the plan, which ends on 18 May.
A caravan manufacturers' association claimed the tax rise would lead to more than 7,000 job losses in the industry.
Currently, mobile caravans are subject to VAT and static ones are exempt.
Trade body the National Caravan Council claims the tax rise would lead to 4,340 job losses at holiday parks across the UK, with a further 1,446 jobs lost in the manufacturing sector and 1,500 at suppliers.
'Draw boundaries fairly'
Guy Sparkes, who runs a holiday park at Partrington Haven in East Yorkshire, said the tax rise would have an impact on the whole sector.
He said: "It think in five years time we'll look back and say we had a thriving caravan manufacturing industry, tourism in the UK, and one decision killed it all."
Labour and Conservative MPs from across East Yorkshire have campaigned against the proposal.
In April, in a parliamentary vote, 17 Conservatives voted in favour of an amendment to the Finance Bill that would have stopped the tax, cutting the government's majority to 25.
Speaking during a debate in Parliament in April, Prime Minister David Cameron said he had listened to representations from the region's MPs but felt the proposed tax was fair.
"This is an issue about how we draw the VAT boundaries fairly," he said. "I don't think it's fair that a mobile caravan pays VAT but a stationary caravan does not."