Police plea to Scunthorpe waste site baby's mother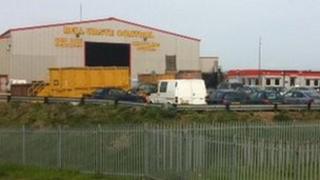 Police have urged the mother of a baby whose body has been found at a recycling plant to come forward, saying she may need medical help and support.
The baby, thought to be a boy and up to six months old, was found at Bell Waste Control in Scunthorpe, North Lincolnshire, at about 09:30 BST.
A male worker discovered the naked body while sorting items for recycling.
Det Sgt Karen Philpott, of Humberside Police, said: "Our main priority is to try to identify the mother."
She added: "Our plea to members of the public is if you know this family or the mother of this child please contact us so we can follow up on those inquiries.
"There are real concerns about the mother."
'Seemingly discarded'
Ms Philpott, speaking at a news conference outside Scunthorpe police station, said it was hoped a post-mortem examination on Thursday would provide more clues as to how the baby died.
She said the baby was not thought to have been stillborn.
Steve Kent, general manager of the privately-owned site, said the man who found the baby's body was "very distressed" and being interviewed by police.
He said: "We're just assisting them with their inquiries and helping them where we can."
Mr Kent said the company kept records of where waste was collected from and he was confident police could use those records to find where the body was picked up.
Earlier, a police spokesman said: "At this time, very little is known in terms of the circumstances which led to the baby seemingly being discarded.
"We are concerned the baby's parents, in particular the mother, may need help and support following the loss of her child and as such she may be very vulnerable at this time.
"We are urging anyone who can help identify the parents of this baby or the parents themselves to come forward in order for us to make sure they get any support or medical treatment that may be required."