East Yorkshire mother found guilty of child cruelty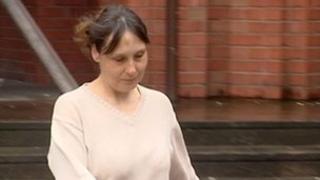 A woman from East Yorkshire has been found guilty of two counts of child cruelty towards her son and daughter over a five-year period.
Linda Clappison, 46, from Keyingham, East Yorkshire was convicted at Hull Crown Court on Thursday.
Her son Andrew, 18, had claimed in court that his mother regularly punched and hit him and locked him in his bedroom without heating or lighting.
Judge Michael Mettyear adjourned sentencing until 8 May.
'Treated like a dog'
Her son Andrew described how he and his younger sister needed hospital treatment for frostbite after their mother took away their bedding and forced them to sleep in freezing bedrooms.
He also told the court how they were frequently locked in their bedrooms.
"I was scared of her. She would not let me come down stairs. I was treated like a dog basically," he said.
Her daughter, who cannot be named, had told the court how they were often hungry.
The jury was also shown pictures of the girl after her mother had forced her to have her head shaved as a punishment.
The child cruelty took place over a six year period between 2006 and 2011.
Humberside Police have praised the children's bravery for giving the evidence, which helped convict their mother.
The judge told Clappison she could expect a custodial sentence and has ordered pre-sentencing reports.