Flamborough nursery fundraisers take North Sea dip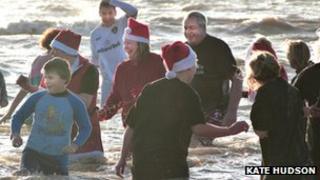 Charity fundraisers have taken a plunge into the North Sea in a bid to raise money for an East Yorkshire nursery.
About 30 people took part in the annual Boxing Day Dip at South Landing near Flamborough, the third time the event has taken place.
Fundraisers hoped to raise £1,000 for the Flamborough pre-school playgroup.
Lisa Harper, from the playgroup, said: "It's great to see the event grow in size each year, with more and more people taking part.
Fundraiser Gerry Ellis said he had been proud to participate.
"It was very cold. Even though there's no snow this year, the sea is still cold," he said.
"It takes your breath away and you can't wait to get out."
The event was supported by members of Flamborough's lifeboat crew who opened their station for the use of those taking part.