Surplus supermarket food scheme opens to feed Hull's poor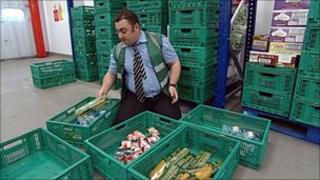 A charitable scheme which takes surplus food from supermarkets to give to the poor has been launched in Hull.
The initiative - run by the FareShare charity - has been set up by the local Goodwin Development Trust charity.
Food will be redistributed via a depot on the Sutton Fields industrial estate area of the city.
According to the Waste and Resources Action Programme (WRAP), about 362,000 tonnes of edible food is thrown away every year by retailers.
Kathryn Sowerby, from the Goodwin Development Trust, said: "There's nothing wrong with this food, it's in date.
"It probably would've been overstocked or have something wrong with the packaging. Quite simply it would have gone to landfill.
"What FareShare's trying to do is divert things from going to landfill and give them to people that really need it in the community."
Unemployment rising
The charity said it had seen food poverty becoming a growing problem among the poorer communities in Hull.
About 8% of Hull's population is claiming Jobseekers' Allowance, more than twice the Great Britain average.
It is not first project in the area providing food to people in serious financial trouble because of job losses or problems claiming benefit.
There are existing schemes in Hornsea and Hull.
Food will be redistributed through community groups and charitable organisations.
Mrs Sowerby said: "It will really be going to people who may be suffering from food poverty or maybe struggling to feed their families with good quality food.
"It does seem strange in this country to think of people being in food poverty but it is a reality.
"With the unemployment rising and people finding it more difficult, we feel its something we at least can provide and we can save the food from going to waste as well."