Scunthorpe sports centre nominated for architecture award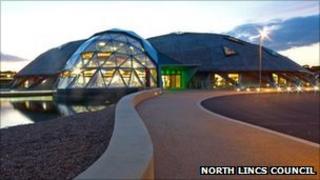 The Scunthorpe Pods leisure centre has been shortlisted for an international architecture prize.
The £21m swimming pool and sports facility opened in July and has attracted more than 100,000 users.
It has been nominated in the sports building category in the World Architecture Festival Awards, which takes place in Barcelona in November.
Last year's winner was the Soccer City stadium in Johannesburg, which played host to the football World Cup final.
The building will be competing against 704 other contenders, including an equestrian arena in Qatar and a skating stadium in Germany.
Cllr John Briggs, deputy leader of North Lincolnshire Council, said: "It is a fantastic building and is visually attractive both inside and out and has attracted a phenomenal number of visitors since it opened in July.
"It is built to a high standard and sympathetic to its surroundings, yet stands out. I'm proud of what we've achieved. It will be the icing on the case to win this award."
The centre has already won an award for environmental sustainability.