BAE Brough workers hold cycle protest against job cuts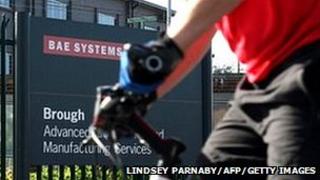 Workers at BAE Systems in East Yorkshire will get on their bikes later to protest against planned job losses.
Four BAE engineers from Brough plan to cycle through the night, hoping to speak to the prime minister at the Conservative conference in Manchester.
BAE Systems announced last week that 900 jobs would be cut from its 1,300-strong workforce at Brough.
One of the cyclists, Mike Eyre, said: "We need to do everything we can to give us a glimmer of hope."
As well as the redundancies at Brough, BAE also announced that 1,387 jobs would go at its factories in Warton and Samlesbury in Lancashire.
Announcing the job losses, BAE said it needed to stay competitive.
'Safeguarding jobs'
Mr Eyre, 43, a manufacturing engineer at Brough, said he and his fellow cyclists aimed to reach Manchester by the Wednesday morning rush hour.
He said he hoped Prime Minister David Cameron and Defence Secretary Liam Fox would be willing to discuss the redundancies.
"It would be fantastic to ask for their support and for them to speak to the company," he said.
"The decision is a BAE Systems decision, but the government can play its part in safeguarding jobs.
"It would be the end of manufacturing at a plant which has been working for 95 years."
Last week, Mr Eyre cycled with BAE engineer Karl Player to the Labour party conference in Liverpool and spoke to party leader Ed Miliband about the proposed job losses.
BAE has launched a 90-day consultation into the closure plans with unions and workers at some sites, including Brough, which is due to finish at Christmas.
On Monday, Chancellor George Osborne announced a new enterprise zone would be created at Brough to help workers who lost their jobs at BAE Systems to find new employment.