Whitehall talks over Humber turbine factory scheme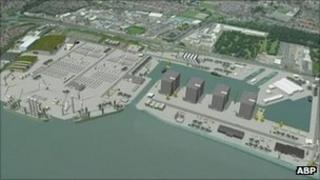 Councillors and MPs from Hull have met Business Secretary Vince Cable in London to discuss the future of a proposed wind turbine factory.
The talks were arranged after concerns that the £80m scheme, which could create up to 10,000 jobs in the region, might not go ahead.
An initial agreement signed by Siemens to develop a site in Hull's Alexandra Dock ran out at the end of July.
There are now rival bids from Denmark and Germany.
After the meeting, Hull West and Hessle Labour MP Alan Johnson described the business secretary as "very receptive" to supporting the project.
Mr Johnson said: "We are doing everything we can in Hull.
"The problem we think has been a lack of ministerial grip. Someone getting hold of this and recognising that if this doesn't come to Hull it won't come to the UK."
He said that Vince Cable had offered clarity on the level of the government's financial incentive to encourage Siemens to come to the Humber region.
A Department for Business spokesman said: "This is an iconic project both for the Humber, for the UK offshore wind industry and the economy as a whole.
"That is why the government is doing all it can both publicly and behind the scenes to bring negotiations to a successful conclusion."
The BBC understands that Siemens will make a decision on the location of the factory by the end of the month.