Food bank opens in East Yorkshire to feed poor families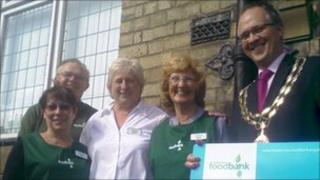 Families struggling on low incomes in East Yorkshire are being offered food provisions by a charity.
The food bank initiative - run by The Trussel Trust charity - has been set up in the area by a local church and community groups.
St Nicholas Church in Hornsea said there were "an increasing number of people on low incomes that are struggling to make ends meet".
Scunthorpe already has a food bank and another is due to open in Hull.
So far there are around 130 foodbanks across the UK.
The Rev Phil Lamb, vicar of St Nicholas Church, said: "There's always been poverty round here and people have just struggled through it. In this time of recession, all sorts of people are experiencing need.
"The Holderness Food Bank will provide a minimum of three days emergency food and support to people experiencing crisis in our communities."
People who need help feeding their families will be given food vouchers by the local authority, which they can trade in return for food at the foodbank.
The foodbank relies on public donations of food.
The Rev Lamb said: "We need people, schools, churches, businesses and individuals to donate non-perishable, in-date food to the foodbank, or money that we can use to buy goods for people."