Hull's first Thalidomide case celebrates 50th birthday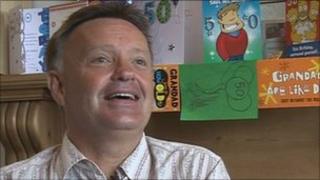 A Hull man who was not expected to live beyond 30 has celebrated his 50th birthday.
Simon Wilcock was born with deformed arms after his mother took the drug Thalidomide during pregnancy.
The anti-nausea drug was banned in 1961 after a number of babies were born with birth defects.
Mr Wilcox said when he was younger he was told by doctors that he would have a "life expectancy of no more of 20 to 30 years".
The drug was developed in Germany in the 1950s and was prescribed to combat the effects of morning sickness in pregnant women.
It was withdrawn in the UK after 2,000 babies were born with limb deformities and other damage in the early 1960s.
After a long legal battle the drug's UK manufacturer, Distillers Biochemicals, paid out around £28m compensation in 1973. The money was put in to a trust fund to provide money to the affected families.
Mr Wilcox said that over the years he had learned to live with his condition. "It was horrible when I was a child, below 13," he said.
"Kids are cruel a lot of name calling and all that. It really did upset me. As you get older you learn it doesn't matter and you get on with life."
Despite his disabilities he became a keen sportsman playing rugby and football for his school team and local clubs.
Now a father and grandfather he describes himself as "lucky" in comparison to others.
He said: "When you look at some people they've got no arms and legs, internal injuries. I've got off pretty lightly."