Godfrey Bloom: Hull no smoking scheme 'waste of money'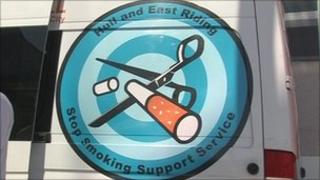 An MEP has called for Hull's anti-smoking campaign to be dropped, claiming it is a "waste of money".
Godfrey Bloom, the UKIP member for Yorkshire and Northern Lincolnshire, said the initiative was not working and the money could be better spent.
A recent report showed levels of smoking in the city had risen over the last few years.
Hull's Director of Public Health, Dr Wendy Richardson, described Mr Bloom's comments as "absolute rubbish".
Mr Bloom said it was not the government's role to "tell people how to live their lives".
He said: "I think it is a complete waste of money, most government initiatives are a complete waste of money.
"Don't forget we are spending people's money when we use these initiatives. Money that I would argue could be spent rather better elsewhere."
'High quit rate'
The 2010 annual report by Hull's director of public health showed the percentage of adults smoking in the city has risen from 31% in 2007 to 33% in 2009. This compares to the English average of 21%.
The rate of male lung cancer deaths also rose by 4% in the same period, compared to a national decline of 2%.
But Dr Richardson claimed the anti-smoking initiatives were encouraging older people to stop smoking and the city had one of the UK's "highest quit rates".
She said: "A lot of people across the whole of Hull smoke, but I think that once they actually get into their 50s and the prospect of maybe only having another 10 years to watch grandchildren grow up might make them start to think differently.
"It [the scheme] is effective in that we get people to give up. I think it is a much more difficult job to get young people not to start in the first place.
"The amount of money that we spend on smoking related diseases far outweighs the very small amount of money that I have committed to smoking cessation services."