'Tombstone' leapers rescued at Bridlington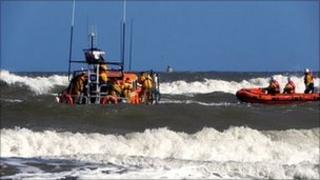 A coastguard officer has warned people of the dangers of "tombstoning" - jumping from height into water - after two teenagers had to be rescued.
Humber Coastguard said two 16-year-old boys were rescued by a lifeboat crew after leaping from Bridlington pier on Saturday.
The warm weather and a long bank holiday has seen people flock to coastal resorts.
Although it was sunny, strong winds meant there was a rough sea.
Mike Puplett, watch manager for Humber Coastguard, warned about the dangers of tombstoning.
He said: "You may have some impact injuries which would stop you swimming back to the harbour wall, you may hit something, you may go straight under.
"The sea temperature also has a cold shock effect - there's a whole host of things that can go wrong, just for carrying out a few seconds of fun and a dare for your friends."
Meanwhile, Yorkshire Water has warned visitors not to be tempted to swim in reservoirs.
A spokesman said: "Reservoirs may seem like a good place to take a swim to cool down but they are extremely dangerous due to the chilling temperatures and the strong under currents beneath the surface.
"When fatalities occur, it's often the temperature of the water which is the most significant factor.
"Reservoirs are deep and the water in them doesn't flow like in rivers or the sea so the temperature rarely rises much above 12C."
The firm said strong currents might also lurk beneath the surface as water was drawn into the supply network.