Unison urges Hull City Council to delay redundancies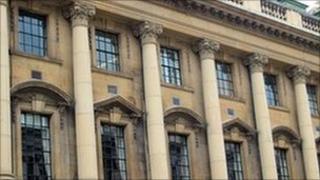 A union is calling on Hull City Council to delay the next round of redundancies until after the local elections.
It comes amid claims that the speed of redundancies is leaving parts of the authority unable to function and putting a strain on staff.
Unison said the council was operating a "slash and burn policy".
Carl Minns, leader of the Liberal Democrat-run council, said it needed to make £65m savings in the current financial year.
Following cuts in government funding, council staff were asked to consider voluntary redundancy.
In December, 110 staff took voluntary redundancy, with a further 675 staff due to leave this month.
Steve Torrance, Unison regional organiser, said: "Hull City Council is in a mad rush to make these redundancies and axe services."
He added: "Service areas are being left dangerously under staffed and with work piling up and no one to do it."
Unison said delaying the next round of redundancies until after the 5 May local elections would allow for "any incoming administration to decide whether or not these [redundancies] should go ahead."
'Financial black hole'
Adrian Kennett, lead negotiator for Unison at Hull council, said rather than redundancies, staff could have been balloted on taking a pay cut and working reduced hours.
"A lot of our members have spent years and years building up services for vulnerable people in the city and now they're watching them being taken away and decimated without no consultation."
Mr Minns said although people were leaving the authority some of the posts would continue.
"This council does not have £65m in this financial year. The longer that is delayed, the more pain we will face and a black hole will build up in the council's finances."
Steve Brady, the council's Labour group leader, said the authority had gone into "sheer panic about getting the numbers out for the new financial year".
He said: "We had an alternative budget and major parts of that we will still go out and put into practice."
John Fareham, leader of the Conservatives, said it was not about redundancy numbers but "making sure the services are delivered".