Hull McAuley College free school details plans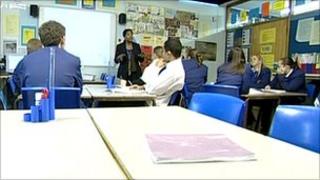 Parents are to hear details of plans for Hull's first free school at two meetings this week.
The proposed McAuley College Academy has gained approval from education secretary Michael Gove and plans to open in September 2011.
It will initially be set up and run by staff at St Mary's College, Hull's only school rated "outstanding" by Ofsted.
Free schools will be funded directly by Westminster and be outside local authority control.
New buildings
The McAuley plans are unusual because they link the new free school to an existing school rather than starting from scratch.
After opening in temporary accommodation on the St Mary's College site, the McAuley College Academy plans to move to its own new permanent buildings in 2013.
St Mary's College head teacher Ged Fitzpatrick, who is behind the free school proposal, told BBC News: "It enables the new school to be created but nurtured by an existing one, and a strong one.
"Ordinarily free schools have been set up, thus far, on disused industrial estates.
"This is a way of establishing an entirely new school, but on an existing school site with access to catering facilities and green space for play and PE."
'Longer' school day
The McAuley College Academy is currently taking admission applications for year seven students to start in September and has 100 places available.
Two meetings are to be held at St Mary's - at 1830 GMT on Tuesday and Thursday this week - for prospective parents to find out more about the new school.
The school's website says all students will be individually assessed after admission to find out their own educational needs.
"The school day is likely to be longer than is traditional and compulsory homework will be given daily," the website adds.
"Basic literacy and numeracy will be our number one priority."
As well as a focus on academic subjects all students would also learn to play a musical instrument, it said.