Service marks WW1 Worcestershire County Cricket Club memorials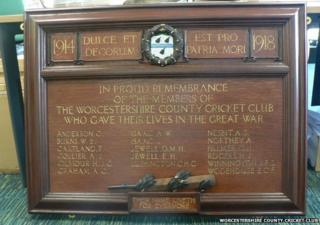 A service will be held to re-dedicate a memorial to players and members from Worcestershire County Cricket Club, who were killed in World War One.
Seventeen people from the club, including 10 first XI players, died in the conflict.
Pupils from the Stourport Academy restored the plaque, to make the inscribed words more visible.
The service will take place before the third day of a match against Gloucestershire, on 17 August.
'Former glory'
A second memorial, which includes names from the original board as well as others who died in World War Two, has also been produced.
This will be dedicated at the same service.
Worcestershire did not play against other counties again until 1920, after losing so many team members during World War One.
A director at New Road, Meriel Harris, said the students had done an "absolutely magnificent job" in bringing the old wooden memorial "back to its former glory".
She said: "The original war memorial hung above the bar in the old pavilion. It was as black as pitch because I think they were all smoking...underneath it."