Fears over Worcestershire colleges merger plans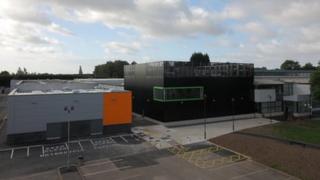 Fears have been voiced over how staff may be affected, after a public meeting to discuss plans to merge two colleges.
Worcester College of Technology and North East Worcestershire College would merge, with the new headquarters being in Redditch, under the proposals.
The Unison union said it was concerned the plans would force at least 60 staff to move to Redditch to work.
The Worcester college said it anticipated the plans affecting a relatively small percentage of workers.
A public meeting was held at the college at Deansway, Worcester, on Monday.
'Huge practical impact'
Under the plans, the Worcester college would be dissolved and its property transferred to North East Worcestershire College, which has sites in Bromsgrove and Redditch.
Laura House, from Unison, said: "Who's to say whether further down the line they'll look at centralising staff further?
"If you have staff being told that they need to work in Redditch, that will have [a] huge practical impact on them, in terms of their travelling costs and also the time that it takes them to travel to work."
Principal and chief executive at the Worcester college Stuart Laverick said: "We have... almost 500 members of staff at the college.
"We're anticipating there'll be probably 13 members of staff we imagine, once we work out the full details [of] who would be affected, which obviously does impact on them and we'll be very supportive of them, but it is a relatively small percentage."
Mr Laverick said dissolving both colleges to become "a new entity" would have taken six months longer and "would have cost many hundred thousand pounds more in legal and accountancy fees".
He added courses currently in Worcester, Bromsgrove and Redditch for those aged up to 18 would remain, but he thought there would be "potentially movement" involving higher education provision.