Government urged to apply for £400m EU flood cash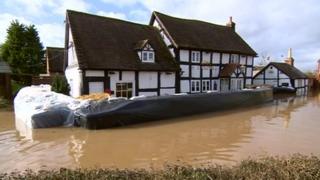 Flood campaigners in the West Midlands are calling on the government to apply for money from a £400m EU relief fund.
The region is to receive £1.2m in flood support from the government - but residents said more was needed.
Ministers have said despite widespread flooding the UK does not meet the European solidarity fund's £3bn damage threshold.
An MEP for the West Midlands said other countries which did not meet the criteria had successfully applied.
'Need the money'
Campaigner Mary Dhonau, from the Flood Protection Association, said she "welcomed" money pledged by the government but it was "remiss" to not apply for European funding.
"If you look right across the board I think we need that money to help us recover," she said.
West Midlands Lib Dem MEP Philip Bennion said he did not agree with the view the UK had not suffered enough damage for it to apply.
"There's been a number of cases where the fund has been accessed by member states who were nowhere near the threshold," he said.
David Cameron announced £10m would be made available to those affected by flooding.
Worcestershire and Gloucestershire will each receive about £500,000, £130,000 will go to Herefordshire and £80,000 to the Shropshire area.
Businesses in Worcestershire can apply for grants of up to £3,000 to compensate for losses incurred through flooding.