Kidderminster firm fined £30k after worker lost legs in explosion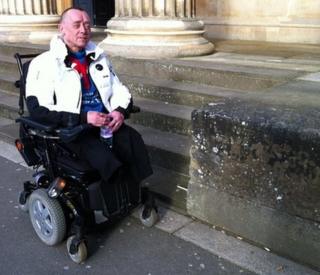 A Kidderminster engineering company has been fined £30,000 for safety breaches after a worker had his legs blown off in an explosion.
Clive Dainty was pressure testing a 335-litre vessel which had been filled with air instead of water.
At Worcester Crown Court his injuries were likened to those sustained on the battlefield.
Filtration Service Engineering (FSE) pleaded guilty to offences under the Health and Safety Act.
The firm failed to put measures in place at its factory to protect 51-year-old Clive Dainty, also from Kidderminster.
The company was also ordered to pay £15,325 in costs.
The force of the explosion pushed Mr Dainty into a cabinet against a wall.
As well as losing both legs, he suffered head injuries and has severely restricted movement in his arms, which were repaired with metal plates.
An investigation by the Health and Safety Executive (HSE) found that the company decided to test the vessel because it had concerns about the quality of the welding.
Rather than filling it with water, the recommended method, the firm decided to use compressed air.
Worcester Crown Court heard that the pressure built up to such an extent that eventually the vessel exploded.
Speaking on behalf of the company, solicitor Andrew Roach said: "FSE co-operated fully with the investigation and has accepted responsibility. Lessons have been learned."
Following the sentencing, Mr Dainty said: "[FSE] was fined what they could afford without it having to fold.
"It wouldn't have been fair on the other workers if they had lost their jobs because the company had to fold.
"The company has been punished, which is right."
Mr Dainty, who was treated on the same ward at Queen Elizabeth Hospital in Birmingham as wounded military personnel, added that he had been psychologically as well as physically affected by the incident.
"I'm obviously in a wheelchair, and I wake up in the middle of the night sometimes in a cold sweat.
"It's cost me a lot, my relationship fell apart when I came out of hospital, but I'm not going to give up on life.
"Hopefully I can get prosthetics, and when my compensation case is over I will be able to adapt [a home] so I can use it easier with the wheelchair."
HSE inspector Ed Fryer said: "[Mr Dainty's] injuries were more akin to those sustained on a battlefield.
"The vessel exploded like a bomb during the course of a normal working day, and everyone in the factory was at risk from the operation because no measures were put in place to protect them."