M42 delays: Police apologise to drivers stuck in traffic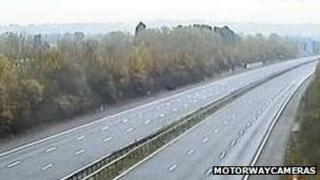 Drivers who were stuck for up to five hours after the M42 motorway was closed in both directions, have had an apology from police.
The road closed at 12:45 GMT on Saturday and the Highways Agency said it was possible it may not reopen until Monday.
It is shut between the M5 and Alvechurch junctions and the A38 is closed at Catshill.
Police acted after a man on a bridge on the A38, made threats to harm himself.
'No alternative'
Supt Kevin Purcell said: "I would like to apologise to all motorists and local people who have experienced significant disruption as a result of this incident.
"Clearly we strive to resolve such matters as quickly as possible, but I would like to make it clear that the threat of harm both to the individual concerned and to vehicles driving on the M42 is so significant, there was no alternative but to close the motorway and for it to remain closed until the incident has run its course."