Two Gullet Quarry deaths accidental says coroner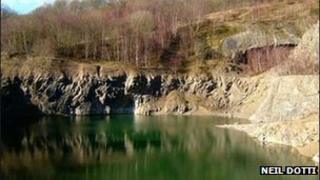 Verdicts of accidental death by drowning have been recorded on two young men who died within a week at a Worcestershire quarry.
Russell O'Neill, 17, died on 6 July at Gullet Quarry, near Malvern. A second man, Justas Juzenas, 22, died on 12 July.
Mr Juzenas died on the same day that a vigil was planned for Russell which was then postponed.
Coroner Roland Wooderson recorded the verdicts at Hereford Town Hall.
Russell and two of his friends were playing in the water when he decided to swim across, the inquest was told.
'Very active'
Russell, from Carlisle Road, Worcester, got into difficulties, went under the water and drowned.
Six days later Mr Juzenas, of Three Crosses Road, Ross-on-Wye, was at the quarry with his girlfriend when he also decided to swim across.
When he went under, onlookers swam out to try to find him but in vain.
Mr Juzenas's sister, Birute Juzenite, told the BBC her brother was "a very active and very nice person".
Russell's older brother, Chris, said following the inquest that he knew "full well" his brother's friends "tried their hardest" to help him.
The Malvern Hills Conservators, which looks after the hills, told the BBC it was waiting for a report from the Royal Society for the Prevention of Accidents (RoSPA), which would come up with recommendations for improving safety at the quarry.