Charles Morgan removed from world-famous UK car firm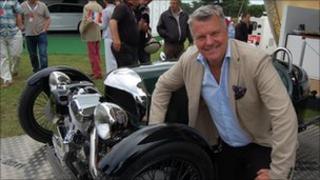 The last member of the Morgan family involved in day-to-day running of the motor firm has been removed.
Charles Morgan, the founder's grandson, said it was "incredibly disappointing" to be told he can no longer work for the firm his family set up more than 100 years ago.
He said he was told his plans for the Morgan Motor Company "did not fit with the philosophy of current management".
The firm confirmed he has been removed from his position as strategy director.
The car maker, based in Malvern Worcestershire, was founded by HFS Morgan in 1909.
World record
The company confirmed there were now no members of the Morgan family "involved in the day-to-day management of the company".
However, the firm's board still includes Mr Morgan's sister along with "members of her extended family", a spokesperson said.
Mr Morgan has warned that in the future, the company cannot rely on its heritage alone.
He said his plans included taking the company's "unique brand" into new markets such as China and to begin racing their cars again.
The firm's Malvern factory, which has been on the same site since 1913, employs 177 people.
HFS Morgan began producing three wheeler cars in 1910, but the firm's reputation is based on hand-built small sports cars.
The Morgan Four Four still holds the record for the world's longest production run of the same model.
However, as a major shareholder in the company Mr Morgan said he was "concerned for its future".
He said he will now "take time to consider my next actions".