Worcestershire County Council could cut lights and buses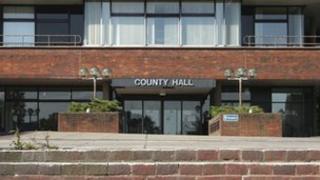 Street lighting could be reduced, bus funding slashed and family services changed in cuts proposed by Worcestershire County Council.
Plans were also revealed to sell 87 council buildings to raise funds.
The council aims to reduce its budget by £30m in 2014/15 and by about £25m per year after that to axe a total £90m from its current £334m spend.
A council board will discuss the proposals on Thursday before a full council meeting on 7 November.
Council notes outline a plan to "limit demand" for health and adult social care by focussing on independent living and support.
The Conservative-led authority also plans to provide all council services online so "expensive face to face contact" is reduced.
Leader of the Labour group, Peter McDonald, said: "[Council leader] Adrian Hardman has been talking about cuts with a smile on his face for a number of years.
"They are bragging about cutting spending to 42% of what it was in 2010."
Jobs pledge
The council is looking to make "significant reductions" in street lighting costs and highways management.
It also wants to cut transport costs, which would mean reducing council-provided public transport.
The proposal suggests family support and help for children with disabilities should in future focus on early intervention to avoid "high cost services".
Further proposed savings would be made through communities taking over council services, for example in Countryside Services and Arts and Heritage.
The council plan says these activities need to be self-financing and led by communities.
Previously, council leader Adrian Hardman said no more jobs would be cut on top of the 1,500 previously announced.
He said he would not rule out increasing council tax to address budget needs.