Locomotive to be restored for Severn Valley Railway after 27-year absence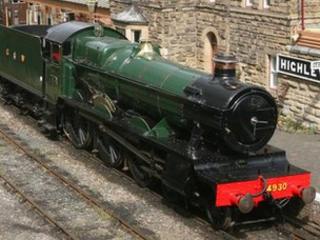 A locomotive is to return to a heritage railway line in Shropshire and Worcestershire after a 27-year absence.
Severn Valley Railway bosses have announced a £400,000 restoration of the Hagley Hall locomotive.
They acquired the engine from a scrapyard in 1972. It carried passengers until 1986, when it was withdrawn from service as the boiler certificate had expired.
Work will take between three and four years to complete.
The engine was due to depart from the Engine House at Highley, where it has been for the past five years, to Bridgnorth on Sunday so restoration could begin.
Nick Ralls, Severn Valley Railway's general manager, said: "This is a very important milestone for the railway, along with our shareholders and the Friends of Loco 4930 Hagley Hall Group.
"The locomotive is well-suited to the line and has many supporters. It will be fantastic to see it start on its journey to return to service after more than a quarter of a century."
The restoration of the engine, which was built at Swindon Works by the Great Western Railway in 1929, has been funded by selling shares as well as fundraising by the Friends of Hagley Hall Group and Severn Valley Railway Charitable Trust.