River Arrow rescue: Two children 'lucky to be alive'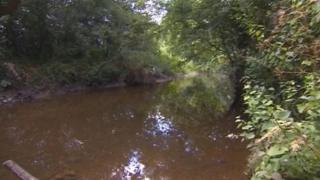 Two children have been rescued from the River Arrow near Redditch in Worcestershire.
West Mercia Police said a six-year-old girl had been flown to Birmingham Children's Hospital, while her 11-year-old brother was at the Alexandra Hospital in Redditch.
The pair got into difficulty at about 12:30 BST and were pulled out by a man and a woman passing by.
Insp Ian Joseph said the children were "lucky to be alive".
'Extremely ill'
After reading a statement from one of the people who intervened at the scene, off Dolphin Road, Redditch, he said: "It would appear that a tragedy has really only just been averted.
"Certainly the circumstances that were described were horrific.
"I think a few minutes more without the assistance of the three people who got involved and we would've been talking about a double tragedy."
Janie Greville, who helped rescue the children, said she and her partner were walking their dog by the river when they were alerted by some teenagers.
She said one of the children in the water looked "extremely ill".
"I jumped in and swam to the children... my partner took the six year old first and a guy who was fishing worked on [her} to empty her lungs," she told BBC Midlands Today.
'Deadly hazard'
Both children are believed to be in a stable condition, police said.
The West Midlands Ambulance Service said the six-year-old girl had "a reduced level of consciousness" when they arrived. Both were also suffering from hypothermia.
"Crews provided emergency medical treatment at the scene before airlifting the girl to Birmingham Children's Hospital, where on arrival, she was conscious and talking to paramedics," a spokesperson said.
Mr Joseph added: "This division has seen its fair share of tragedies around open water with incidents at Gullet Quarry and other places.
"Despite all the warnings going out we are still having incidents of this kind."
He said the dangers of open water swimming were "a national issue".
"It matters not what the skills or abilities of the children are - they could be the best swimmers in the world - but the circumstances of the water they are entering they can't possibly predict," he said.
"The effect of cold water or obstruction under the surface can be a deadly hazard."