Kidderminster recycling plant fire demolition starts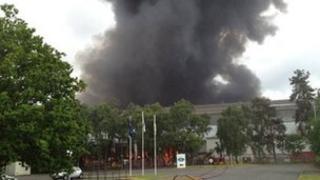 The demolition of part of a recycling plant is set to begin in a bid to help extinguish a fire that has been burning for over a month.
Up to 80 firefighters fought the blaze at Lawrence Recycling in Kidderminster after it broke out on 16 June.
Equipment to pull down two fire-damaged bays has been assembled at the site.
A fire service spokesman said crews, a specialist demolition firm and the Environment Agency will oversee the operation that could take up to a week.
He added that because part of the Lawrence Road site was a former metal forge it had been difficult to put out all of the burning refuse derived fuel housed at the plant.
'Possible flare ups'
Wyre Forest District Council said when the demolition begins sections of smouldering waste will be removed and doused.
A statement on the authority's website said: "Water used dousing this material will be collected and taken off site in tankers by the Environment Agency.
"There is a possibility that moving the waste may cause a flare up and a little more smoke.
"All agencies are aware of the need to keep smoke levels down and will be trying to do so."
Public Health England has confirmed the health risks of the smoke are low, according to the council.
Last month about 200 fish died after water used to tackle the fire ran back into the nearby Staffordshire and Worcestershire canal.