Worcester fire station to move from 'ageing' site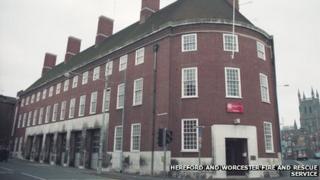 A new fire station is planned for Worcester to replace the current "ageing" one in the city centre.
The new station will be built on the Great Western Business Park, just off Tolladine Road, Hereford and Worcester Fire and Rescue Service said.
The site has been "carefully selected" as a suitable location for responding to incidents in Worcester and the surrounding area, the service added.
Once planning permission is given construction work will take 12 months.
Chief Fire Officer Mark Yates said: "Obviously the decision to build a new fire station in the current economic climate had to be carefully considered, but a new station for Worcester is vital if we are to provide a cost-effective and safe, fit-for-purpose location for our crews to work from."
The current fire station in Copenhagen Street is 70 years old, the site is "very constricted" and the building "costly to maintain", he added.
The service said once the new station was fully operational it would sell the Copenhagen Street site to off-set the building costs.
The new station will have five bays for vehicles and will incorporate a training building and yard, with provision for the Young Firefighters Association.