Russell O'Neill death: Gullet Quarry teenager's funeral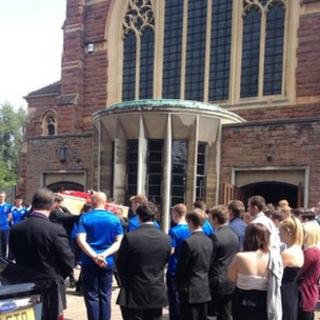 About 500 people have attended the funeral of a teenager who died while swimming in a quarry in Worcestershire.
Russell O'Neill died on 6 July at Gullet Quarry, near Malvern. A second man, Justas Juzenas, 22, died on 12 July at the same site.
A candlelit vigil was held at the quarry for the 17-year-old on Monday.
His funeral at the St Martin with St Peter church in Worcester took place at 13:30 BST.
BBC Midlands Today's Cath Mackie tweeted: "Standing room only in the church. 500 mourners at least are here.
"Two people have fainted so far at this funeral."
Ryan Morrow, 17, who went to primary school with Russell, said he was "heartbroken" to hear the news of his death.
"He was such a good lad, no one could say a bad thing about him - it hit really hard," said Ryan.
"I'm proud to see the turnout here today, it shows how many friends and (what a) strong family he's got to come and support him."
'Fantastic young lad'
Russell was a member of Worcester City Football Academy, managed by Mark Owen, who said a plaque will be put up at the training ground in memory of the teenager.
"He was such a fun loving kid who was enjoying life and who loved football," said Mr Owen.
"He was always smiling, just a fantastic young lad.
"I've been here (at the academy) for 13 years and there have been ups and downs but you never think this day is going to come."
The teenager's family called for websites listing open water swimming locations to make clear the dangers.
They also want better warning signs, making it clear people have died swimming at the quarry.
The Malvern Hills Conservators have said they are putting up signs warning swimming there is "dangerous and illegal".
The conservators, who look after the hills, blocked the access route to the quarry at the weekend "to prevent any further tragic accidents".
A water safety team from the Royal Society for the Prevention of Accidents is expected to visit the quarry to advise the conservators on what can be done to protect people.