Second swimmer dies at Gullet Quarry within seven days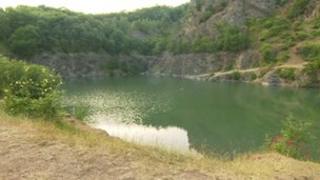 Divers searching for a swimmer who went missing at a disused quarry where a teenage boy died last weekend have found a body.
Rescue teams were called to Gullet Quarry in Herefordshire at 16:28 BST after reports a man, believed to be in his 20s, was struggling in the water.
An underwater search was carried out and police confirmed they recovered a body on Friday evening.
Russell O'Neill, 17, died on Saturday after swimming at the same site.
A candlelit vigil that was due to be held for him on Friday at 21:00 was cancelled following the discovery of a second body.