Worcester oak trees affected by deadly disease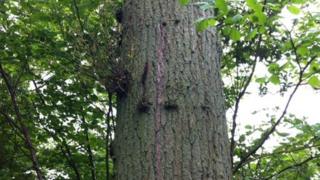 Woodland walkers are being asked to help prevent the spread of a deadly disease that has already affected dozens of trees in Worcester.
Acute oak decline has been found in about 15% of the oak trees in Warndon Wood, a three-hectare site on the outskirts of the city.
The infection was first identified in December, a conservation ranger said.
It causes black lesions and bleeding on the stem. People are being advised not to remove anything from the site.
Stephen Reynolds, a ranger who helps look after 18 wildlife sites for Worcester City Council, said they were taking the acute oak decline very seriously.
'Stem attacked'
Mr Reynolds said: "It's a significant issue for us because we have a lot of infection in this woodland.
"There are a number of factors which cause the disease. The principal one is believed to be a pathogenic bacteria which attacks the stem.
"Other factors include severe weather events, which we've had a lot of recently, and there's a beetle linked to the disease which attacks the tree in its weakened state."
He added that the killer disease can spread "quite easily".
"Don't take anything off site, don't take any branches, leaf litter, dead wood and if you can clean your boots when you leave, get as much soil and debris off as possible, that will all help stop transporting the disease around.
"In this woodland, because there's such a significant amount of infection, felling all those trees would really do more harm than good potentially."
Mr Reynolds confirmed two oak trees found with the disease in Perry Wood would be felled.