Severn Area Rescue Association Kidderminster base 'could close'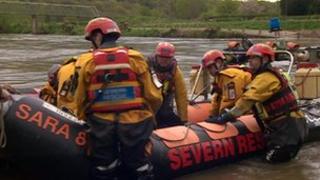 A river rescue charity has said it could be forced to close its station in Worcestershire because of a "significant fall" in donations.
The Gloucestershire-based Severn Area Rescue Association, which relies solely on volunteers, said it needed £25,000 to operate its Kidderminster base.
The Wyre Forest team, which is based in the town, covers the river between Shrewsbury and Upton-upon-Severn.
The charity said donations had fallen by about 20% in the past two years.
The association also has stations in Tewkesbury, Sharpness and Beachley and has total running costs of more than £130,000.
'Skills gap'
Kidderminster station chairman, Paul Watkins said: "We've certainly noticed with the times of austerity that donations have slowed down.
"If they cease to come in, we simply could not exist. Just one collection tin in a pub or shop equates to a tank of fuel for our lifeboats."
The team from Kidderminster are called out on average 60 times a year and work alongside the emergency services.
Crew member Chris Broughton said if the station closed the next nearest would be 50 miles away at Tewkesbury.
"There would be a big gap in services, if the base was to disappear, because we can provide capabilities that the emergency services are not able to do so," he said.
"Incidents would be a lot harder to undertake without the skills gap we fulfil as volunteers."