Herefordshire public toilets closed to save £250,000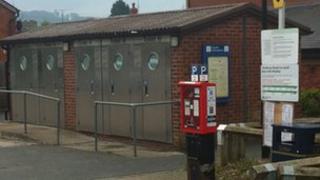 All public toilets in Herefordshire are to be closed to save money, the council has announced.
Herefordshire Council said it costs £250,000 a year to maintain its 25 toilets.
The council said people will be able to use facilities at 14 shops, pubs and other businesses to have signed up for their Community Toilet Scheme instead.
No toilet will close until "alternative provisions" are in place, a spokesperson said.
The Conservative-led authority has cut £21.1m from its budget over the past two years.
It said it needed to save another £32.2m over the next three years, because of cuts in government funding.
Councillor Russell B Hamilton said existing public toilets were not "all that good" and local businesses would benefit as more people went into them.
'Extra loo roll'
"We want to save money for taxpayers because we are under pressure but this did not start from that point of view - it started from doing something positive," he added.
Sherry Stanley, who runs a pub in the centre of Hereford that is one of the businesses letting the public use its toilets, said: "There really isn't that much extra cost involved - maybe one extra loo roll a week."
Sylvia Silver, who runs a hotel in Bromyard, believes tourists will be put off from coming to the town if there are no public toilets there.
"[The council] has made a serious mistake in not understanding that people would pay for public toilets as they do in Stratford or Paddington station," she said.
Bernard Hunt, a town councillor in Bromyard, called the closure of public toilets in the town "a dreadful idea".
"We know that Herefordshire Council is in dire financial straits but there are all sorts of ways they could economise to make up this relatively small amount of money," he said.