'Racism' probe UKIP councillor Eric Kitson to resign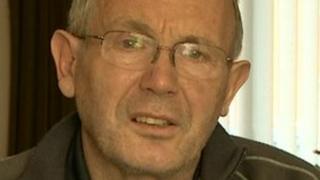 A UKIP county councillor who admitted sharing offensive material about Muslims on Facebook will resign his seat, the party said.
Eric Kitson, who won his seat on Worcestershire County Council on 2 May, said he had shared the cartoons and jokes only to show how "disgusting" they were and to get others' views.
The local party said Mr Kitson would be resigning.
It said the posts had been "foolish" and "not what UKIP is about".
Mr Kitson has apologised over the event.
Bill Etheridge, the UKIP chairman for Dudley and Halesowen, said Mr Kitson had made the decision to resign himself, but said he was still being investigated by the party internally.
'Out of spotlight'
He said: "The party is totally against intolerance and racism of any sort.
"We hope that now Eric is resigning we can work past this and get back to other issues and that Eric can get out of the spotlight."
He added Mr Kitson had made "some foolish mistakes".
On Monday, Mr Kitson, who represented Stourport-on-Severn, said it had been "stupid" for him to share the messages, which were posted last year, and apologised.
He has since closed his Facebook account and said national media attention had made him "really, really ill".
West Mercia Police said they had been contacted about the Facebook posts and were waiting to receive more information about the case.