Sealine staff offered help finding new jobs by union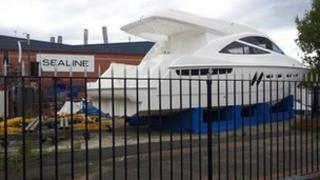 Workers made redundant at a luxury boat company in Worcestershire are being offered help by a trade union.
The Community Union said it can help the 234 staff laid off by Sealine in Kidderminster find jobs.
Gavin Miller, their campaign manager, said even though the union was not recognised at the company it has "a responsibility to see what we can do".
The advice session is being held at Kidderminster Harriers Sports and Social Club at 14:00 GMT on Friday.
Mr Miller said: "We can give people advice on retraining, on CV writing, on careers guidance - simple things, even as basic as how to fill in an application form."
The administrators, Baker Tilly Restructuring and Recovery LLP, has said it will assist staff "to make claims against the government redundancy fund".
The union said it will have legal experts available to help with any claims.
Sealine is one of Europe's biggest makers of boats and has been trading in Kidderminster since 1972.
It was bought by the Brunswick Corporation in 2001 and was sold to another US firm, Oxford Investment Group, in 2011.