Hereford sites earmarked for Robert Owen Group free school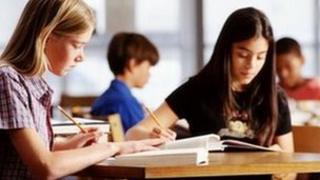 Former school buildings and offices in Hereford have been earmarked as possible sites for a new free school.
The Robert Owen Group plans to open a new vocational school for 14 to 19-year-olds in September.
The Department for Education asked Herefordshire Council to make buildings available from its housing stock.
The council said the school would be temporarily based at the former Holme Lacy Primary School, before moving to a second site at Blackfriars.
A spokesperson said the free school was expected to move to the Blackfriars offices early next year, once council staff have moved out and the building is refurbished.
They said an agreement had been reached with the department for education, subject to a funding deal being signed.
Free school
Councillor Graham Powell said the local authority was waiting for the Robert Owen Group's detailed proposals for the site.
Under legislation, the education secretary has the right to determine how land that has been used for educational purposes in the past should be used in future.
The Robert Owen Group, which also provides teacher training at its base in Leominster, was granted permission to create a school in July.
Free school status means it will be run outside of local authority control and will manage its own curriculum and budget, as well as given greater flexibility over teaching hours, term dates and other aspects.
Its president Chris Morgan said the school was "fantastic news for Herefordshire" and would help to regenerate the Marches area.