Level crossing death: Signalman and Network Rail fined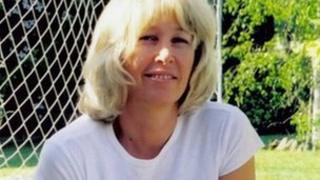 Network Rail and one of its signalmen have been fined for failing to ensure the safety of a woman killed when a train hit a car at a level crossing.
Jane Harding, 52, died when the car she was in was struck at Moreton-on-Lugg, Herefordshire, in January 2010.
Birmingham Crown Court heard Adrian Maund, 43, from Caswell Crescent, Leominster, had raised safety barriers shortly before the crash.
He was fined £1,750, while Network Rail was given a £450,000 fine.
Maund was also ordered to complete 275 hours of unpaid work.
Both were found guilty of health and safety regulations following a two-week trial in February.
During the trial, the jury was told Network Rail had failed to install an automatic barrier locking system at the site, when improvements were made in 2009, due to its expense.
The court heard the equipment would have cost an extra £40,000, although the firm said the true cost could be 10 times as much.
Prosecutors said Maund had raised the barriers after mistakenly thinking the Manchester Piccadilly to Milford Haven passenger service had already passed.
Phillip Mott QC told the court that he had been distracted after a farmer rang the signal box for a second time asking if it was safe to walk his sheep over another crossing further up the track.
'Safety top priority'
Mrs Harding's husband Mark, who was driving the car and suffered pelvic and shoulder injuries in the crash, said his life had "changed forever".
In a statement he said: "If Jane's passing is to have any meaning, it will be that, in future, rail and road users will be placed at the forefront of those in the rail industry whose responsibility it is to ensure the general public's safety at level crossings"
He said safety, rather than cost, should be the top priority when upgrading crossings.
"The cost of any life, as we can testify, is incalculable," he said.
Network Rail, responsible for the country's track and signalling, said it was "deeply sorry" for Mrs Harding's death.
Kevin Groves, from the company, said: "We made a mistake. We've rectified that mistake since the accident.
"Our engineers went away and invented a new piece of kit which we've fitted to Moreton and 40 other crossings, and there's more to do that we will be finishing off in the next 12 months.
"We thought the risk of this happening was very low. There are hundreds of these crossings and they have been in service for 50 years and this is the only fatal accident that has ever been recorded."
Manuel Cortes, leader of the TSSA rail union, said the crash had been "entirely avoidable" and that the taxpayer would effectively "pick up the bill" for the fine.
The Arriva Trains Wales service also hit another car being driven in the opposite direction, although the two passengers escaped with minor injuries.
Network Rail was also ordered to pay £33,000 towards prosecution costs, while Maund was told to pay £750.