Worcester museums awarded £130k grant funding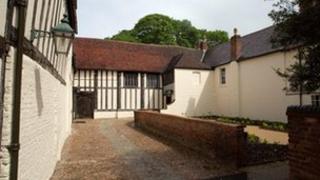 Museums in Worcester have been awarded more than £130,000 to improve displays and access.
The museums service said the funding, from Arts Council England, would be partly used to show off the city's links with the Civil War.
A pilot scheme at The Commandery is to trial different ways of using objects, information, people and new technology to tell the story.
Helen Large from Museums Worcestershire said it could help boost tourism.
"It's about the tourist economy and getting our collections out there," she said.
Councillor Jabba Riaz, a member of the joint museums committee, said the Civil War was an important period in Worcester's history and one the city should celebrate more.
The first and last major battles of the Civil War were fought outside the city.
High street events
The grant funding will also be used to commission a feasibility study at the City Art Gallery and Museum.
Ms Large said the library's move to The Hive last year had left extra room on the ground floor and fewer contributors to pay the rent at the building.
She said options might include encouraging other organisations to move in, or for the museum and art gallery to make use of the space themselves.
The grant is also expected to fund a range of events on the high street to promote the natural history collection.